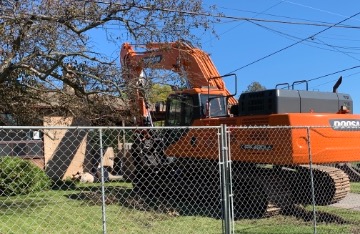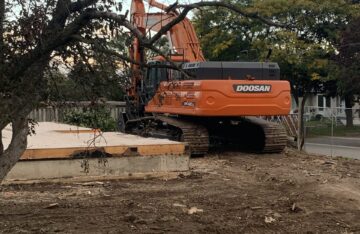 Here at Colossal Contracting we specialize in a wide range of demolition services that include but are not limited to, Residential Demolition, House Demolition, Commercial Demolition, Interior Demolition, Barn Demolition, Out Building Demolition, Shed Demolition, Parking Lot Demolition, Pool Demolition, Concrete Pad Demolition and more.
Whether you need a house demolished prior to building your dream home or you need a building on your property demolished, we are here to serve you. Our team has been providing professional residential and commercial demolition services to the GTA and surrounding areas for over 15 years.
At Colossal Contracting we recycle as much of the demolished material as reasonably possible to save you money while also staying environmentally friendly.  Our interior and exterior demolition is handled with precision and safety while ensuring your demolition services will be executed effectively to complete the scope of work.
We take pride in our demolition work and always try to ensure it's completed with the debris being controlled and contained, not scattered. Care is taken to keep our work sites organized and tidy to the best of our ability.
Colossal Contracting provides Demolition services to the following cities in and surrounding the GTA
Toronto, Scarborough, Markham, Pickering, Ajax, Whitby, Oshawa, Port Perry, SCUGOG, Brooklin, Uxbridge, Clarington, Stouffville, Mississauga, Brampton, Newmarket, North York, East York, Peterborough, Cobourg, Newcastle